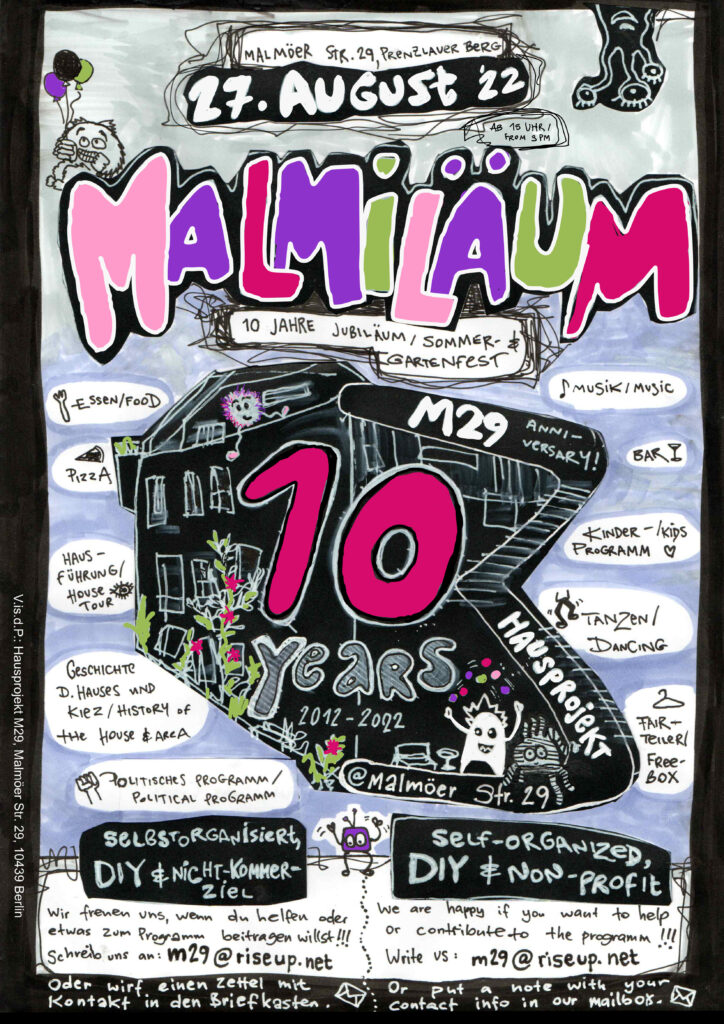 [English below] Es gibt Leben an den Schienen!
Wir, das Hausprojekt M29 in der Malmöer Str. 29 im Prenzlauer Berg, feiern diesen Sommer unser 10-jähriges Jubiläum – DAS MALMILÄUM!
Kommt vorbei am 27. August 2022 ab 15 Uhr.
Euch erwarten unter anderem:
🎤 Live-Musik u.a. mit Mighty Blowfish (https://www.facebook.com/themightyblowfish/) (Pop/Metal/Rock)
Sorah (https://www.instagram.com/sorah_music/?hl=de) (Rap/HipHop)
Theoradicals, (Rap) https://theoradicals.bandcamp.com/
Shama Rahman, (jazz, singer-songwriter, electro-acoustic, world rhythms) https://shamarahman.bandcamp.com/album/truth-betold
Open Mic
Das Ganze ist DIY, selbstorganisiert und nicht-kommerziell wie unser Leben hier auch. Das heißt: Wir freuen uns über deinen Beitrag zum Programm oder deine Hilfe (z.B. "Ich bringe einen Kuchen mit." oder "Ich backe mit euch Pizza." oder "Ich helfe gern beim Aufbauen.") . Schreibt uns eine Mail an m29 'at' riseup.net oder werft einen Zettel mit Kontakt in unseren Briefkasten.
English:
There is life on the rails!
We, the house project M29 at Malmöer Str. 29 in Prenzlauer Berg, are celebrating our 10th anniversary this summer – THE MALMILÄUM!
Come by on 27 August 2022 from 3pm.
Among other things, you can expect:
🎤 Live music, e.g. with Mighty Blowfish (Pop/Metal/Rock) and Sorah (Rap/HipHop) Theoradicals (Rap), Shama Rahman (jazz, singer-songwriter, electro-acoustic, world rhythms), Insijam (türksich, arabisch, Balkan, Fusion, Selbstgeschriebenes).
Open Mic
🎛 DJs
✨ Magic show for kids & adults
✊🏾 Documentary & discussion on our mural about Berta Cáceres & Marielle Franco
📺 Wall of remembrance "10 years of M29" -> feel free to bring photos and stories
👀 House tours
🍹 delicious drinks
🍕 Pizza from our homemade oven
💃🏻 interactive dance performance
🔥 fire show
The whole event is DIY, self-organized and non-profit – as is our life here. That means: We are happy about your contribution to the programme or your help (e.g. "I'll bring a cake." or "I'll bake pizza with you." or "I'll gladly help you set up.") . Send us an email to m29 'at' riseup.net or drop a note in our mailbox with your contact details.