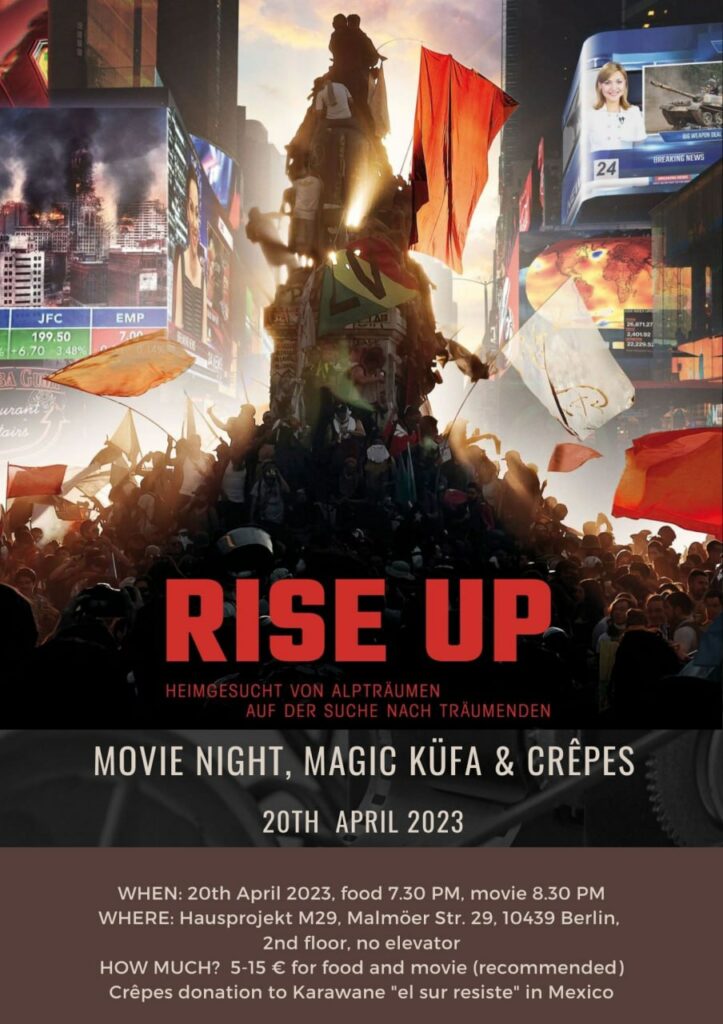 Filmabend, Magic Küfa & Crêpes
WANN: 20.04., Essen 19.30 Uhr, Film 20.30 Uhr
WO: Hausprojekt M29, Malmöer Str. 29, Berlin, 2. Stock, kein Aufzug
WIE VIEL? 5-15 € für Essen und Film (Empfehlung)
Crêpes gegen Spende an Karawane "el sure resiste"
RISE UP – erschließt politische Umbrüche von 4 Kontinenten und 4 Jahrzehnten und setzt sie als flammendes Plädoyer gegen eine politische Ohnmacht, die Zeiten sich verstärkender Krisen immer größer wird.
TRAILER:
https://youtu.be/sbJ9_BvEQek
---
Movie night, Magic Küfa & Crêpes
WHEN: 20th April, food 7.30 PM, movie 8.30 PM
WHERE: Hausprojekt M29, Malmöer Str. 29, Berlin
2nd floor, no elevator
HOW MUCH? 5-15 € for food and movie (recommended)
Crêpes donation to Karawane "el sur resiste"
RISE UP – opens up political upheavals from 4 continents and 4 decades and sets them as a flaming plea against a political powerlessness that is becoming ever greater in times of intensifying crises.
TRAILER:
https://youtu.be/sbJ9_BvEQek